Belkin F5D4077 VideoLink Powerline Internet Ethernet Bridge Adapter video streaming media player
Facebook: Transmit ANY video stuff around the house Easily with these! The greatest help for Home Video Streaming.
Item A7: $38.95Can or $28.85us per pair Brand New.
HOBBYSAT MEDIA PLAYERS - Belkin F5D4077 VideoLink Powerline Internet Ethernet Bridge Adapter video streaming media player
Now in stock. Discount for more than one.
2x for $33.95Can or $24.95us per pair
Official Belkin F5D4077 VideoLink Powerline Internet Adapter
Get a Belkin Powerline adapter for your media stuff throughout the house.
Get a Belkin Powerline Adapter for Skyping and Video Calling/Chatting.
Say you want to make a call but the router is in a different room. In cases like this, an ethernet
network CAT5/6 cable is not an easy soltion. You can still use a wired solution but make use of
the electrical wiring and Powerline adapters. The adapters send the internet signal through the house
slower than an ethernet cable but far faster than wireless or WiFi.
These units are GREAT for media players and computer devices!
FEATURES:
- Connect your internet-ready TV or Blu-ray player through any power outlet in your home.
- Easy setup - Plug and Play installation.
- Speed - transfer rates up to 200* mbps.
- Connect any 1 internet ready device: IPTV, Blu-ray player or gaming console.
*The standard transmission rate--200Mbps--is the ideal physical data rate. Actual
data throughput and distance will be lower, depending on interference, network traffic,
building materials, and other conditions.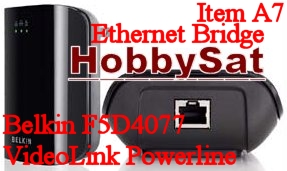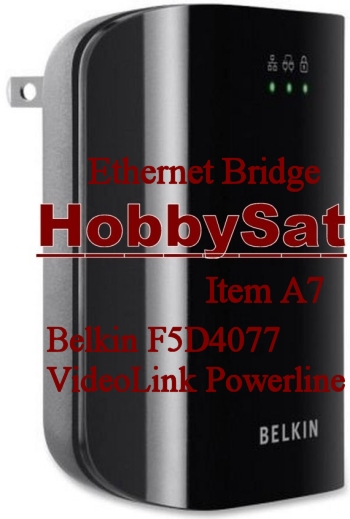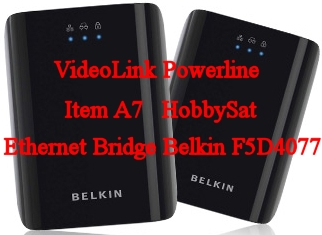 Turn any electrical outlet into a high-speed network connection. AV Powerline Adapter lets
you reliably transmit content from the Internet directly to computers and other network
devices through the household electrical wiring. Send data with speeds of up to 200Mbps.
Ideal for areas that are hard to reach by wireless connections. With 128-bit AES link
encryption, Powerline is the most reliable solution for providing secure Internet
connectivity to these remote areas. For added assurance, security can be reset with a
unique encryption code at the push of a button.
Transform your existing electrical wiring into a high-speed network for streaming movies and
games from your favourite online services with the Belkin VideoLink Powerline Internet
Adapter. Connect an Internet-ready TV, Blu-ray player, or gaming console through any power
outlet for the easiest way to get a fast and reliable online connection.
Save Time
Spend less time setting up, and more time streaming and gaming. No need for extra Internet
cables--simply use your home's existing electrical outlets. Plug it in and you're ready to
stream, surf, and play. Just plug one adapter into any power outlet and connect it to your
router. Wherever you watch your TV or Blu-ray player, simply connect the second adapter to
an Internet-enabled device, plug it into any outlet, and start streaming.
Stable, Reliable Connection
Thick walls and cement building materials can degrade wireless signal strength and interfere
with network performance. VideoLink provides a secure, stable Internet connection in places
where wireless signals don't reach. Turn any wall outlet into an Internet access point, with
a fast, reliable online connection. Powerline technology allows you to reliably transmit
Internet content directly to computers and entertainment devices through the electrical
wiring in your home--without the need for costly Ethernet cable installation.
Speed
Get a seamless high-speed connection with speeds of up to 200Mbps--ideal for streaming video and
gaming*.
1 Port

The Ethernet port on the VideoLink makes it easy to stream Internet data.
Connect one Internet-enabled device like a TV, Blu-ray player, or gaming console.
Push-Button Security
VideoLink Powerline is preconfigured with 128-bit AES encryption for automatic security.
For added assurance, security can be reset with a unique encryption code at the push of a button.
24/7 Tech Support 1-800-223-5546
Perfect for GAMING and Gamers.
Windows PC, Mac, Linux, Pad, Android TV Boxes, XBMC or KODI, STB, HTPC, IPTV,
Google TV Box, Playstation, XBOX 360, PS3, computers, TVs etc.
Works with all appliances with an ethernet internet port.
All MyGica. ZaapTV. Jadoo. Computers. Laptops. Notebooks. Tablets. Shava. BTV. maaxTV. AraabTV. Skyping. Video streaming.
Factory Replacement or Add-on Ethernet Bridge for any and all electronic appliances with an ethernet port.
Official and stock.
SPECIFICATIONS FOR BELKIN F5D4077 v1220:
• Protocol: Video Sending through electrical household wiring
• Security: Push-button
• Security: 128-bit AES link encryption with key management for secure connection between adapters
• Operation Range: Up to 1000 feet, 300 metres or more via home wiring
• Operation Range: Up to 8 connected devices per endpoint using a switch or bridge
• Link Rate: Up to 200Mbps
• Supports OEM and ODM service
• Colour: Black
• 3 status indicators
• Use: Universal, TV, DVD, STB, Aux, HOM and so on…
• Compact, user-friendly design, suitable for any environment
Standards:
→IEEE 802.3/802.3u
→HomePlug® AV-certified
→Compatible with HomePlug 1.0
Buyer's Review:
We got one of these from Hobby. We were so impressed that we got
some more for lots of our video streaming all around the house.
The price is very good and it saves us a lot of trouble.
Marilyn Chester April 19, 2017, Halifax.
UPC: 7 22868 78100 5

Certifications:
✓Made in China.
✓CE, FCC
✓QC Passed
✓RoHS Compliant
✓WEEE Symbol, for separate electronic waste collection
✓Universally Recyclable
✓Intertek ETL CM Listed US
✓HOMEPLUG CERTIFIED AV 1 BPL CC
Why risk buying generic brands for a few dollars cheaper?
Belkin has Factory support.
*FREE SHIPPING! FREE SHIPPING! FREE SHIPPING!*
Warranty plus hardware failure replacement.
30 years selling electronics in Halifax.
Free Delivery in Halifax on this item. Free Shipping.
Order here or online from HobbySat.
Hobbysat.com
belkin.com
This Package Includes:
• Display Box
• 2 Belkin VideoLink Powerline Internet Adapters
• 2 Ethernet Cables
• User Manual on CD in English
• Quick Installation Guide
Why buy from HobbySat?
1 year warranty and support. HobbySat carries the North American versions of MyGica Products.
Stop paying overpriced Cable or Satellite TV.
Tired of being forced to pick high cost packages, just to get the channels you want?
Frustrated at paying for equipment rentals from your provider?
Go with a company who's got your back.
TAKE CONTROL OF YOUR TV
HobbySat is the home of:
Media players, Android TV, IPTV, TV Antenna stuff and Free to Air Satellite.
We beat all other prices for the gear you need for many years now.
In addition when you need anything in electronics, cables and wires, converter, adapter, travel
electronics, batteries, computer accessories, satellite dishes and accessories, tripods, connectors,
HDMI, audio, compression ends, C-Band, RCA/3.5mm/component, compression/alignment/testing tools,
phone stuff, media players, converters, TV antennas, switches, splitters, lnbs, amplifiers, mounts,
modulators, remote controls, diplexers, diseqc things, enclosure boxes, multiswitches, CCTV, phone,
alarm, speaker, optic, VGA, S-Video, RG58, RG6, flat cable, flash drives, DVI, DB9, RS-232, CAT5, CAT6,
installation accessories, crimpers, strippers, DirecTV, Dish Network, Shaw Direct, Bell ExpressVu,
remotes, ethernet bridges, satellite and internet receivers, IPTV rcrs, Android boxes, FTA Free To Air,
etc. we can offer you a deep discount to help you.
Manufacturer: Belkin HomePlug.
Skyping, Chatting, FTA, Android, XBMC, Kodi, Wi Fi, TV, Free, Movies