Official MyGica KR20 XBMC/Kodi remote control designed for Android TV boxes
Facebook: KR20 - SINGLE-HAND REMOTE FOR ALL YOUR OPTIONS
Item 874b: $19.95Can or $15.35us Brand New.
HOBBYSAT MEDIA PLAYERS - Official MyGica KR20 XBMC/Kodi remote control designed for Android TV boxes
• Geniatech Enjoy TV Box
Part Number: KR20
Protocol: IR
Mouse: Simulate mouse
Frequency band: 2.4GHz.
Reach: 10 metres or more (reference value)
Size: 45mm x 176mm x 17mm
Power source: 2 AAA batteries
Weight: 55 grams
Keys: 45
Use: Universal, TV, DVD, STB, Aux, HOM and so on…
Colour: black
Material: Nice ABS, IC and PCB
Certification: CE, FCC, QC Passed, RoHS, UL, ISO9001:2008, ISO14001, BV
Made in China
Button: Silicone
Supports OEM and ODM service
Now in stock. Discount for more than one.
2x for $36.00Can or $27.69us
DESCRIPTION:
Official MyGica KR-20 XBMC remote control designed for XBMC Android TV Boxes. Easily navigate through
XBMC with preset functions in the palm of your hands. The MyGica KR-20 is an upgrade from the original
MyGica Remote for these models: ATV 510x and ATV 500x
Exact replacement for KR-20, KR-32 and KR-34.
Compatible with ATV1200 remote.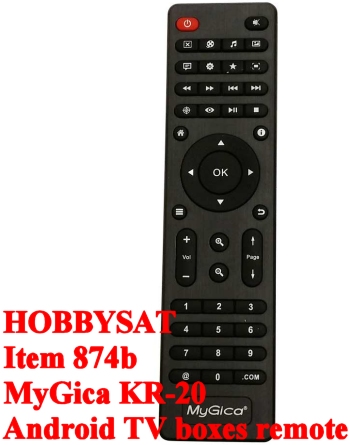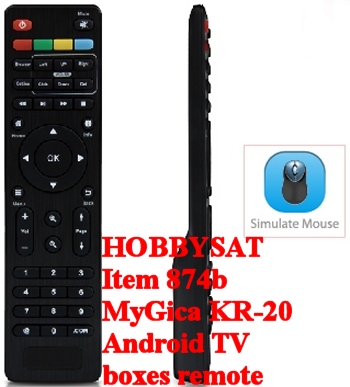 Tester's Review:
"Works as advertised on my boxes. Thanks guys."
John Q., April, 2016 Halifax, N.S.
Why risk buying generic brands for a few dollars cheaper?
MyGica has Factory support with automatic updates. Best of all the MyGica comes with 1 year warranty in North America!!!!
What is Android TV box?
Android is the World's leading Mobile and Tablet Operating System.
This means No Learning curves for Android users.
MyGica Android TV box turns any Television into a Smart TV or Converts your Existing Smart TV
into a Smarter TV.
The MyGica ATVs are powered by Android which allows you to download applications on your MyGicas
and share it with all your Android devices or vice versa.
Download from Millions of Apps, Games, Books, Movies and more on the Google Playstore.
Surf the Internet, Stream Movies, Read Ebooks, Play Games, Video chat and much more from your TV.
MyGica Android Boxes are Easy to Use and provide Endless Entertainment.
*FREE SHIPPING! FREE SHIPPING! FREE SHIPPING!*
Warranty plus hardware failure replacement.
30 years selling electronics in Halifax.
Free Delivery in Halifax on this item. Free Shipping.
Order here or online from HobbySat.
Hobbysat.com
This Package Includes:
• Display plastic pouch
• Infrared Remote Control

MyGica?
MyGica an expert in TV products, delivering the consumer the ultimate experience of watching internet television.
Who is MyGica?
Manufacturers of the highest quality Android TV Boxes including the Jynxbox Android, Pivos XIOS DS and MyGica Products.
Why buy from HobbySat?
1 year warranty and support. HobbySat carries the North American versions of MyGica Products.
Stop paying overpriced Cable or Satellite TV.
Tired of being forced to pick high cost packages, just to get the channels you want?
Frustrated at paying for equipment rentals from your provider?
Go with a company who's got your back.
TAKE CONTROL OF YOUR TV
HobbySat is the home of media players, Android TV, IPTV, TV Antenna stuff and Free to Air Satellite.
We beat all other prices for the gear you need for many years now.
In addition when you need anything in electronics, cables and wires, converter, adapter, travel
electronics, batteries, computer accessories, satellite dishes and accessories, tripods, connectors,
HDMI, audio, compression ends, C-Band, RCA/3.5mm/component, compression/alignment/testing tools,
phone stuff, media players, converters, TV antennas, switches, splitters, lnbs, amplifiers, mounts,
modulators, remote controls, diplexers, diseqc things, enclosure boxes, multiswitches, CCTV, phone,
alarm, speaker, optic, VGA, S-Video, RG58, RG6, flat cable, flash drives, DVI, DB9, RS-232, CAT5,
installation accessories, crimpers, strippers, DirecTV, Dish Network, Shaw Direct, Bell ExpressVu,
remotes, ethernet bridges, satellite and internet receivers, IPTV rcrs, Android boxes, FTA Free To Air,
etc. we can offer you a deep discount to help you.