Fully Supported MyGica KR-800 motion remote control
2.4 GHz wireless Gaming TrackPad Touchpad Backlit
keyboard air mouse for Android media players

Facebook: Inexpensive for computers, Facebook, everything.

Multimedia portable handheld mini keyboard
92 keys
Built-in highly sensitive smart touchpad with 360-degree flip design


Item 874aa: $28.95Can or $21.77us Brand New.

HOBBYSAT MEDIA PLAYERS - Fully Supported MyGica KR-800 motion remote control 2.4 GHz
wireless Gaming TrackPad Touchpad Backlit keyboard air mouse for Android media players

Now in stock. Discount for more than one.
2x for $49.95Can or $37.54us

Official MyGica Smart Remote KR800
QWERTY Remote Control with Motion Air Mouse.
Get a smart remote for Skyping and Video Calling/Chatting.

DESCRIPTION:
The MyGica KR800 is a 2.4GHz wireless air mouse + keyboard that combines all the capabilities of a conventional
mouse and keyboard without cables.
The ergonomic design of the MyGica KR800 means that the device fits comfortably into your hand, whether holding
horizontally or vertically, and the built-in keyboard is designed to enable efficient typing, for chatting on
Facebook, sending emails or writing full page documents.
Fat fingers can type fast on this remote.
With the KR800 Keyboard remote you are able to fully control and turn on/off any MyGica Android box using its IR sensor.
Works on XBMC and Kodi.

Now featuring our newest Remote to the family. The MyGica KR-800 is born from the demands of our loyal and growing
customers searching for an alternative to conventional Air Mouse Technology. Our new addition boasts Touch Pad
Technology, allowing you to use your finger(s) to control where your mouse appears on your TV, once you've connected
the KR-800 remote to your TV Box, via RF USB chip (included). KR-800 also features Backlight -- for those watching
their favourites in the dark. Need to search for a new title? No more having to get up to turn the light on, or moving
closer to your TV's light to see the keyboard! Just use KR-800 as you normally would and enjoy Backlight's Auto Light
feature that illuminates all keys on your KR-800 Remote! MyGica KR-800 includes a 32 inch rechargeable USB cable.
Enjoy being comfortable.

Perfect for Windows PC, Mac, Linux, Pad, Android TV Boxes, XBMC or KODI, STB, HTPC, IPTV,
Google TV Box, Playstation, XBOX 360, PS3, computers, TVs etc.

1 Year Warranty Guarantee by MyGica

Hard for us to keep MyGica stuff in stock.
Now they come out with this. Wow! This is flying off the stores as it is what everyone needed!

The MyGica KR-800 Wireless Gaming Remote and Keyboard is now sweeping the streets ready to dazzle!
Just plug the USB Wireless Dongle into your Android Box, laptop, computer, IPTV.

Works with all media players.
All MyGica. ZaapTV. Jadoo. Computers. Laptops. Notebooks. Tablets. Shava. BTV. maaxTV. AraabTV.

MyGica KR800 combination IR and wireless RF remote/keyboard designed for:
MyGica 120, 400, 520, 580, 582, 585, 586 ATSC, 1200, 1800 and 1900ac.
Also operates other Geniatech manufactured Android boxes (e.g. Pivos/Jynxbox).

Take Control of your TV™


Easy As 1-2-3: Plug In USB, Connect, and Watch.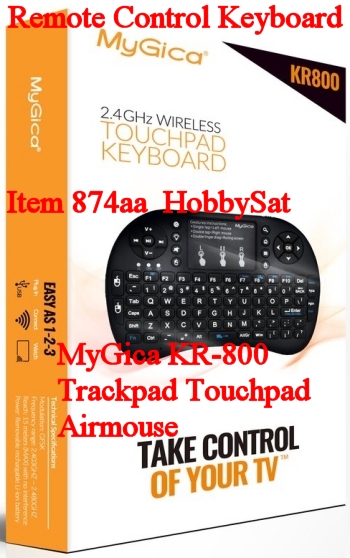 MyGica KR800 has the following advantages over other Wireless Remotes:
IR & Wireless RF capabilities.
Ability to turn on/off MyGica Android boxes.
RE-PAIRING KR-800 and USB receiver Wi-Fi adapter
If you need to re-pair KR800 with the USB receiver, please follow these steps:
1. Turn off the KR800 power.
2. Hold the F1 button, then turn on the KR800 power.
3. When you see the yellow light flashing, release the F1 button.
4. Plug in the USB receiver, wait till the yellow light turns off and the blue light turns on.
This indicates the pairing is successful.
Second White Colour Keys:
There are buttons that have two white colour symbols on them. In order to use the second white key, hold down on
the Shift button and then press the button with white.
Blue Colour Keys:
There are buttons that have both blue and white colour on them. In order to use the blue colour keys, jut hold down
the FN button, then press the blue colour button.
FEATURES:
- Wireless Full QWERTY Keyboard
- Touch Pad feature for Air Mouse
- Backlit keys for simple use in darkness
- Attractive and Comfortable design
- Radio Frequency (RF) Technology
- Internal Rechargeable Battery
- Small but not too small
- Big buttons for fat fingers
- Easier than others to carry and use
- Innovative shape, portable and elegant
- It is Plug and Play
- It feels strong
- It has Fn key
- Great shape like an Xbox controller so it feels natural
- Most items do not have a charger cord, this does
MyGica KR-100 Other Functions and Applications:
* Smart TV system.
* Set-top-boxes for Digital and IPTV.
* Notebook/PC.
* Home entertainment system.
* Game Devices.
* Video Conference Equipment.
* Portable Navigation Devices.
* Man Machine Interfaces (MMI, UI).
* Supports Windows/Mac OS/Android OS
* Air Mouse Touchpad & other functions are easy
Factory Replacement IR-wireless Remote Control for any and all MyGica ATV Boxes or Android boxes.
Official and stock.
SPECIFICATIONS FOR GENIATECH ENJOY TV BOX REMOTE KR-800:
• Wireless Radio Frequency + IR Infrared
• Wireless 2.4GHz connection, smart & portable size
• Motion Air Mouse: Built-in 3 Axis Gyro motion sensor
• Full Qwerty Keyboard: Built-in Media keyboard
• Operation Range: up to 15 meters max.
• Frequency Range: 2.403GHZ ~ 2.480GHZ
• Operational Voltage: 3.3V
• Charge Voltage: 4.4V ~ 5.25V
• Modulation: GFSK
• Channel: 78 channels
• TX Power: Less than +5dBm
• Transmission rate: 1M bit/sec
• Frequency tolerance: +/-30ppm
• Power consumption: 55mA(on), 1mA(sleep)
• Dimensions: 10x5x14.5cm; 3.9x.8x5.7 inches
• Weight: 82g
• Shipping Weight: 181g
• Battery Power: Powered by a built-in removable rechargable Lithium-ion battery
• Power: Advance power saving technology with sleep mode
• System support: Windows 7/8/CE/98/Me/NT/2000/Vista/XP, MAC, Linux, Android OS
• Supports OEM and ODM service
• Touchpad DPI adjustable functions
• Built-in high-sensitivity smart touchpad with 360-degree flip design
• Mini QWERTY keyboard with multimedia control keys and PC gaming control keys
• Auto sleep and auto wake mode
• Numeric keypad
• Colour: Black
• Low power LED indicator
• Use: Universal, TV, DVD, STB, Aux, HOM and so on…
• Compact, user-friendly design, suitable for any environment
• Sit back and use the Freestyle Airmouse to surf the Web, browse photos, listen to music or play games in the room
• Effortlessly guide the on screen cursor with the state-of-the-art keyboard mouse
• New innovative design with motion sensing technology gives you the freedom to interact with media like never before
• Automatic frequency-hopping technology, strong anti-interference, high sensitivity
• An operating range of 15 metres lets you navigate media from anywhere in the room
• Supplied with a USB 2.0 Micro Receiver dongle for wireless connectivity with your Nano, Nano Slim or PC
MyGica KR-800 button functions:
See the second last picture on this page for a view of the buttons/functions.
System Requirements:
→PC, Mac, Android box or some kind of internet Box.
→Works on all Android boxes, computers, Smart TVs, etc.

Buyer's Review:
I have had a couple Mac's coffees with Pam and Jeremy from HobbySat and hope to continue.
This Gaming Touchpad remote is what my family was looking for. It took a couple sessions to
narrow our choice down to this one remote from the many selections they have, but they were
willing to go through the effort and I am glad they did!
Thankyou.
Judy Mainefield: March 10, 2017 Halifax, N.S.
UPC: 1 90314 00010 7

Certifications:
✓Made in China.
✓CE, FCC
✓QC Passed
✓RoHS Compliant
✓WEEE Symbol, for separate electronic waste collection
✓Recyclable
Why risk buying generic brands for a few dollars cheaper?
MyGica has Factory support with automatic updates. Best of all the MyGica comes with 1 year warranty in North America!!!!
What is Android TV box?
Android is the World's leading Mobile and Tablet Operating System.
This means No Learning curves for Android users.
MyGica Android TV box turns any Television into a Smart TV or Converts your Existing Smart TV
into a Smarter TV.
The MyGica ATVs are powered by Android which allows you to download applications on your MyGicas
and share it with all your Android devices or vice versa.
Download from Millions of Apps, Games, Books, Movies and more on the Google Playstore.
Surf the Internet, Stream Movies, Read Ebooks, Play Games, Video chat and much more from your TV.
MyGica Android Boxes are Easy to Use and provide Endless Entertainment.
*FREE SHIPPING! FREE SHIPPING! FREE SHIPPING!*
Warranty plus hardware failure replacement.
30 years selling electronics in Halifax.
Free Delivery in Halifax on this item. Free Shipping.
Order here or online from HobbySat.
Hobbysat.com
This Package Includes:
• Display Box
• Infrared/WiFi KR-800 Remote Control Keyboard Touchpad Air Mouse in plastic pouch
• USB WiFi adapter receiver
• Manual in English
• 1x Charging data cable
MyGica?
MyGica is an expert in TV products, delivering the consumer the ultimate experience of watching internet television.
Who is MyGica?
Manufacturers of the highest quality Android TV Boxes including the Jynxbox Android, Pivos XIOS DS and MyGica Products.
Why buy from HobbySat?
1 year warranty and support. HobbySat carries the North American versions of MyGica Products.
Stop paying overpriced Cable or Satellite TV.
Tired of being forced to pick high cost packages, just to get the channels you want?
Frustrated at paying for equipment rentals from your provider?
Go with a company who's got your back.
TAKE CONTROL OF YOUR TV
HobbySat is the home of:
Media players, Android TV, IPTV, TV Antenna stuff and Free to Air Satellite.
We beat all other prices for the gear you need for many years now.
In addition when you need anything in electronics, cables and wires, converter, adapter, travel
electronics, batteries, computer accessories, satellite dishes and accessories, tripods, connectors,
HDMI, audio, compression ends, C-Band, RCA/3.5mm/component, compression/alignment/testing tools,
phone stuff, media players, converters, TV antennas, switches, splitters, lnbs, amplifiers, mounts,
modulators, remote controls, diplexers, diseqc things, enclosure boxes, multiswitches, CCTV, phone,
alarm, speaker, optic, VGA, S-Video, RG58, RG6, flat cable, flash drives, DVI, DB9, RS-232, CAT5,
installation accessories, crimpers, strippers, DirecTV, Dish Network, Shaw Direct, Bell ExpressVu,
remotes, ethernet bridges, satellite and internet receivers, IPTV rcrs, Android boxes, FTA Free To Air,
etc. we can offer you a deep discount to help you.
Manufacturer: Geniatech.
MyGica, Android, XBMC, Kodi, Wi Fi, TV, Free, Movies
Easily navigate through XBMC or KODI with MyGica KR-800.