MyGica IPC3700 Windows 10 MiniPC TV Box Computer
Item 873b Special Price $228.95Can or $168.95us Brand New.
Facebook: Hey guys and gals if you are looking for a new computer to replace your desktops that are no longer that good, we have this LATEST WINDOWS 10 INDUSTRIAL one just for you. Really good price....
Item 873b: $228.95Can or $168.95us Brand New.
Warranty plus hardware failure replacement.
30 years selling electronics in Halifax.
Free Delivery in Halifax on this item. Free Shipping.
Order here or online from HobbySat.
Hobbysat.com
MyGica IPC3700 Windows 10 Mini PC TV Box Computer for your Big Screen.
You're just one step away from turning your TV into a Smart TV.
Mini PC IPC3700 provides you a cheaper and more powerful solution to changing out your old desktop PC and with Windows 10.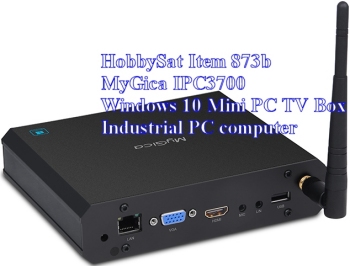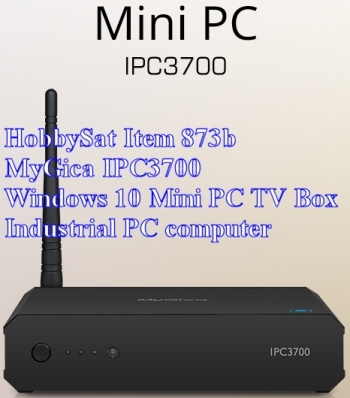 MyGica IPC-3700 Windows 10 TV Box:
MyGica IPC-3700 is a compact mini size industrial PC using Intel BayTrail-T Z3735F/Z3735G CPU.
IPC-3700 feels and looks solid with its Industrial Metal Housing. The MyGica IPC 3700 is a high
efficient and low power consumption PC design. IPC-3700 comes with 2GB DDR3 and 32GB Flash memory,
HDMI 1.4 and VGA output, a headphone socket, 3 USB ports, 802.11n WiFi + Bluetooth 4.0 and can be
powered by either Windows 10 or Linux OS. MyGica IPC-3700 provides you a cheaper and more powerful
solution to substitute your old desktop PC and with windows 10 and Linux support, you can use your
current software without modification.
The Software You Want Powered by Windows 10.
XBMC/Kodi Entertainment:
For those using VLC Player or KODI (Formerly XBMC) as their Media Entertainment Centre, they will love
this device. The Audio output gives you the ability to use Cortana Voice functions. IPC-3700 can be used
with your Television via an HDMI port or your Monitor via VGA.
Key Features:
• Z3735F/Z3735G Intel Baytrail-T@1.33Ghz-1.83GHz, RAM is 2GB,
built-in Nand Flash 32GB Flash memory
• Intel HD Graphic(Gen7 LP) GPU
• OS: Windows 10, optional Linux
• HDMI/VGA Video Output
• Headphone socket audio Output
• With built-in Bluetooth 4.0
• Built-in browser and virtual private network access
• RJ45 10/100M Ethernet interface
• HDMI video output, connect to HDTV for HD video playback
• USB interface, mobile HDD, mouse and keyboard operation
• 1920x1080p video local media playback from SD card or USB HDD
• Use any wired or wireless keyboard and mouse
• 3 external USB interfaces, portable HDD support
• Support for Flash Player 10.2 for hardware decoding,
Flash 11.1 for software decoding and online video playback
• Music player, picture player and more family entertainment
• SD card
• Google Chrome browser
• App Installer for application installation from USB/SD
System Requirements:
• TV with HDMI-in or VGA-in
• WiFi Router with preferrably N support, but at least G support
Warranty:
• 1 Year Warranty in Canada and USA repair facilities.
• Authorized MyGica Dealers offer 1 year warranty either by Repair or Exchange.
Exchanges are only done if the unit cannot be repaired.
THIS PACKAGE INCLUDES:
MyGica IPC3700 Mini PC TV Box
Hi Gain Antenna
HDMI Cable
Manual
Power Adapter
Bonus MyGica KR301 Air Mouse/Wireless Keyboard Remote

SPECIFICATIONS:
Hardware decoding:
Video: MPEG-1, MPEG-2, MPEG-4, H.264, VC-1 1080P, WMV, MOV etc.
Audio: MP3, WMA, OGG, WAV etc.
CPU: Z3735F/Z3735G Intel Baytrail-T@1.33Ghz-1.83GHz
RAM: 2G DDR3
ROM: 32GB
Power: DC 5.0V 2A
MyGica IPC3700
Kijiji (Local Pick Up) Temporary Price Only $228.95
Or shipping for FREE. Save dollars!
MyGica?
MyGica an expert in TV products, delivering the consumer the ultimate experience of watching internet television.
Who is MyGica?
Manufacturers of the highest quality Android TV Boxes including the Jynxbox Android, Pivos XIOS DS and MyGica Products.
What is Android TV box?
MyGica Android TV box turns any Television into a Smart TV or Converts your Existing Smart TV into a Smarter TV.
Surf the Internet, Stream Movies, Read Ebooks, Play Games, Video chat and much more from your TV.
MyGica Android Boxes are Easy to Use and provide Endless Entertainment.
Why buy from HobbySat?
We offer 1 Year Warranty and Support on this brand. HobbySat carries the North American versions of MyGica Products.
Input & Output:
USB: 2.0, 3 external interfaces
External Memory: SD Slot for external memory
Video: HDMI/VGA output
LAN: RJ45 10/100M Ethernet interfaces
WIFI: 802.11b/g/n+Bluetooth BT 4.0
Wireless Airmouse Keyboard Remote. You can use any wired or wireless keyboard or mouse
UPC: 7 02142 15889 1
HobbySat is the home of media players, Android TV, IPTV, TV Antenna stuff and Free to Air Satellite.
We beat all other prices for the gear you need for many years now.