MyGica ATV 1900 AC ATV1900AC Quad Octa 4K HD Android 5.0 TV Box
Item 873a Special Price: $187.95Can or $145.70us from $219.95Can or $164.14us Brand New.
Facebook: Cut the cord and ditch the dish.
Item 873: $187.95Can or $145.70us Brand New. Compare at $219.95
Warranty plus hardware failure replacement.
30 years selling electronics in Halifax.
Free Delivery in Halifax on this item. Free Shipping.
Order here or online from HobbySat.
MyGica ATV1900AC

Kijiji (Local Pick Up) Temporary Price Only $187.95
Or shipping for FREE. Save dollars!
MyGica proves there's no such thing as too much Power.
MyGica ATV 1900AC, The Most Powerful and Sexy Android TV Box Ever!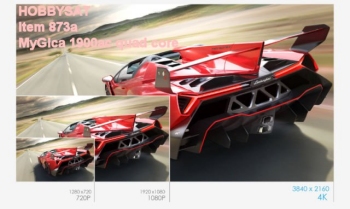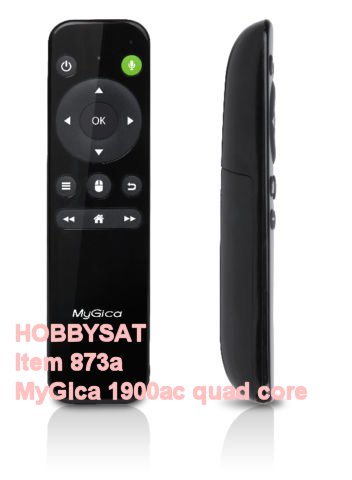 Super Fast Processor, Fastest Wi-Fi/LAN Speed, Hardware Decode Ultra HD and the latest Android 5.0 Lollipop.
If you are serious about performance, this is the Ultimate Entertainment TV box.
MyGica, the leader of Powered by Android TV has raised the bar once again and has set new standards.
Not all Android TV boxes are built the same. See the Difference with MyGica ATV 1900AC.
HORSE POWER
The ALL New MyGica ATV 1900AC is Engineered and Designed for Android Enthusiasts around the World.
This Powerhouse TV Box boasts 2GHz Quad Core CPU (AMlogic S812) and Octa Core Mali-450 GPU.
WIRELESS/LAN
This is "Best in Class".
Wi-Fi Range Featuring Dual Band (2.4GHz/5GHz).
Wireless AC Technology and Gigabit Ethernet 10/100/1000MBps Speeds.
MEMORY
Can handle all Android Apps using little resources, equipped with 16GB Internal Memory and 2GB Ram.
DECODING
Features H.265/HEVC Hardware Decoding and 4K Video @ 30 FPS.
SYSTEM
MyGica is one of the World's First Powered Android TV boxes loaded with 5.0 Lollipop.
Android 5.0 supports Voice Remote Control /Voice Search, built-in Screen Casting and the fastest Android Version to date.
MEDIA
Preloaded with the KODI Media Player (formerly known as XBMC).
Why buy from HobbySat?
We offer 1 Year Warranty and Support on this brand. HobbySat carries the North American versions of MyGica Products.
THIS PACKAGE INCLUDES:
• ATV1900ac Enjoy TV 4K Quad Core Box
• HDMI cable
• Quick Installation Guide
• AC Power Adapter
• IR Remote Control with Voice Recognition
HobbySat is the home of media players, Android TV, IPTV, TV Antenna stuff and Free to Air Satellite.
We beat all other prices for the gear you need for many years now.