MyGica ATV1800e media player Internet TV Android HD quadcore
Item 873 Special Price: $139.95Can or $104.95us from $169.95Can or $126.95us Brand New.
Facebook: Best MyGica reliable workhorse!
Item 873: $139.95Can or $104.95us Special Brand New. Compare at $169.95
Warranty plus hardware failure replacement.
30 years selling electronics in Halifax.
Free Delivery in Halifax on this item. Free Shipping.
Order here or online from HobbySat.
MyGica ATV1800e media player Internet TV Android HD quadcore
Kijiji (Local Pick Up) Special Price Only $139.95.
Save dollars!
DESCRIPTION:
The highly anticipated Mygica ATV1800e is a real product and not an Internet Rumour. The world's first Quad Core CPU and Octa GPU Powered by Android 4.4 TV Box provides Unbelievable Life-like Ultra High Definition Clarity which is 4 times the resolution of Blu-Ray 1080P. MyGica ATV 1800e features the Super Speedy Amlogic S802 Quad Core Processer and Octo Core Mali-450 GPU providing 4K UHD.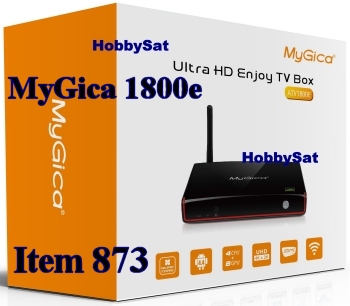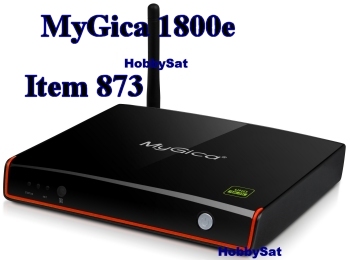 The internal memory of the ATV 1800e has been increased to 16GB NAND Flash and 2GB RAM. Along with that you get wireless 802.11 b/g/n network with external long range Wi-Fi antenna and Optional Bluetooth technology for the highest possible performance and better stability.
Android is the World's leading Mobile and Tablet Operating System. This means No Learning curves for Android users. The ATV 1800e is powered by Android which allows you to download applications on your MyGica ATV 1800e and share it with all your Android devices or vice versa. Download from Millions of Apps, Games, Books, Movies and more on the Google Playstore.
MyGica ATV 1800e is preloaded with the Popular XBMC Media Center as its Premium Home Entertainment Software. XBMC has No trials, No Pro Edition and No Limitations.
To reveal the futuristic features of the ATV 1800e simply connect the Quad Core Powered by Android TV box with your existing Television. Plug in the HDMI or RCA cable and instantly transform your Television into a Smart one Powered by Android TV. Surf the net using WI-FI, use SNS apps to chat with your friends or just sit back and savour the latest on-line movies and music with your family. It's all here, neatly wrapped inside one little box.
MyGica?
MyGica an expert in TV products, delivers the consumer the ultimate experience of watching internet television.
Who is MyGica?
Manufacturers of the highest quality Android TV Boxes including the Jynxbox Android, Pivos XIOS DS and MyGica Products.
What is Android TV box?
MyGica Android TV box turns any Television into a Smart TV or Converts your Existing Smart TV into a Smarter TV. Surf the Internet, Stream Movies, Read Ebooks, Play Games, Video chat and much more from your TV. MyGica Android Boxes are Easy to Use and provide Endless Entertainment.
Why buy from HobbySat?
We offer 1 Year Warranty and Support on this brand. HobbySat carries the North American versions of MyGica Products.
FEATURES:
• AmLogic S802 Quad Core CPU, Octa Core GPU, frequency is 1.6-2.0 GHz
• 2GB RAM, 16GB Flash NAND memory
• Powered by Android 4.4 OS KitKat
• Built-in Internet Browser for Web Surfing with Flash Support
• Google Playstore Offering Millions of Apps, Movies, Books and Games
• XBMC Home Media Center Entertainment. Sports, News, Movies, Religious, Music and more
• Skype Video Chat. (Web Camera required, KR-300 remote Supports Microphone/Speaker)
• Free Movies from Crackle and Free Trial of Netflix
• Supports 4K2K video local media playback from SD card or USB HDD
• Built-in 802.11 b/g/n Wi-Fi with External Extended Range Antenna
• HDMI Supports 1080i,1080p and 4K Ultra HD
• 4 external USB interface, support for mobile HDD, support for mouse and keyboard
• Support for weather, calendar, and desktop clock gadgets
• Support for music player, picture player and more family entertainment
• Airplay/DLNA from your Android and Apple IOS Devices straight to your Mygica ATV 1800e
• Support for SD card up to 32GB
• App Installer for application installation from USB/SD
SYSTEM REQUIREMENTS:
• TV with HDMI-in
• For Wi-Fi, a Router with preferably N support at least or G support
THIS PACKAGE INCLUDES:
• ATV1800e Enjoy TV Quad Core Ultra HD Box
• HDMI cable
• User Manual
• Power Adapter
• IR Remote Control
SPECIFICATIONS:
System:
CPU Amlogic S802B, ARM Cortex A9x4, 8GPU Mali450
CPU Frequency 1.6~2.0GHz 3D engine
RAM 2GB
Storage EMMC 16GB
OS Android 4.4
Interface Defintions and Parameters:
Output HDMI/CVBS
Resolution 3840x2160,1280x720,1920x1080
USB 4x external
SD card 1x SD Card slot
Internet 802.11 b/g/n WiFi & RJ45 10/100M ethernet
Remote control IR remote/2.4G wireless remote control
Voltage 5V/2A DC
Main Functions:
UI ANDROID system UI style/Customized UI
Browser Google Chrome
Media Player Local video playback: Mpeg1/2/4, H.264, VC-1, WMV, AVI, MKV, MOV
Online Video Access to internet, online video playing
Music Local music player: MP3, WAV, WMA
Online Music access to internet, online music playing
Picture viewer Support multi formats: BMP, JPG, TIF, PNG, GIF
Software update Support SD card/USB disk for software update
External storage SD card, USB storage support
Dimensions:
Weight 402g
Power Consumption <10W
Remote Distance 8~10 Metres Visual
Product Size168x132x21mm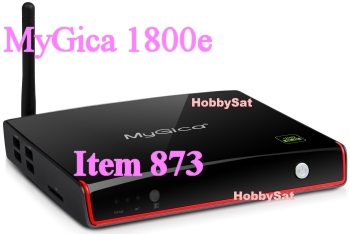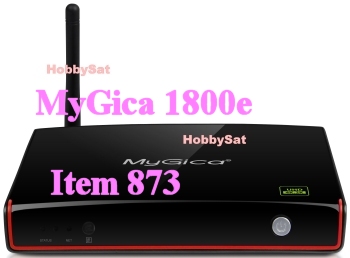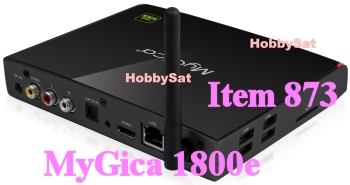 HobbySat is the home of media players, Android TV, IPTV, TV Antenna stuff and Free to Air Satellite.
We beat all other prices for the gear you need for many years now.