MyGica 495PRO Quad Core Android 5.1 Penta Core

Item 872aa: $151.67Can or $108.99us Brand New



Android 5.1 HDMI 2.0 ULTRA4KHD 60FPSVIDEO

MyGica ATV-495PRO Android 5.1 TV Box
Don't be fooled by the diminutive size of the ATV 495PRO. With serious upgrades in our small form factor Android box, MyGica succeeds in achieving the next level of excellence. A look inside reveals top of class components that double the viewable number of 4K frames per second, the latest advances in ac WiFi technology, 10-bit hardware decoding and more...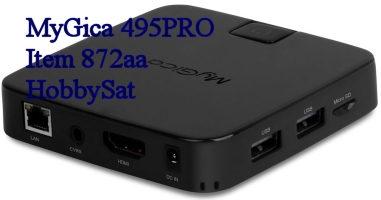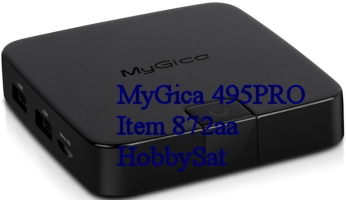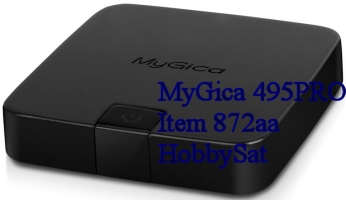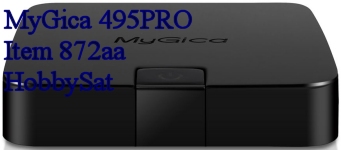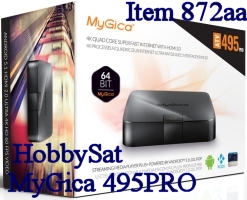 Ne vous trompez pas sur la taille réduite de l'ATV 495PRO, avec de sérieuses mises à niveau de notre Mini-boîtier Android, MyGica a réussi à atteindre l'étape supérieure de l'excellence. Un regard vers l'intérieur du boîtier révèle des composants haut de gamme qui doublent le nombre visible de trames en 4K, les avancées les plus récentes en technologie WiFi ac, un décodage matériel en 10-bits, et bien plus.
No se deje engañar por el tamaño diminuto del ATV-495PRO. Con mejoras en serio en nuestra pequeña caja Android, MyGica triunfa en lograr el siguiente nivel de excelencia. Una mirada por dentro revela los componentes de primera clase que duplican el número de cuadros 4k por segundo que pueden verse, los últimos avances en tecnología WiFi, la decodificación por hardware de 10 bits y más.
TAKE CONTROL OF YOUR TV™
The Software You Want
Powered by Android 5.1
The box features the advanced Quad Core processor running on Android 5.1 operating system, supporting Google Chrome browser, wire and wireless networking access, USB external hard disk, and single hand keyboard, mouse as well as normal remote control.
XBMC/Kodi Entertainment Kodi
Kodi, formally known as XBMC, is a media player platform that allows users to play and view most videos, music, such as podcasts from the Internet, home network and all common digital media files from local and network storage media. The ATV 495Pro comes pre-installed customized and optimized with Kodi, with hardware decoding up to 4K2K Ultra HD support.
3x Faster Wi-Fi speed than Wireless-N Wi-Fi.
Wi-Fi 150% wider/Ultra-wide coverage for large homes and multi-floor locations via MyGica ATV 495 Pro.
Less Interference.
H.265/HEVC is a successor to H.264/AVC. Compared to H.264, H.265 data compression ratio is double at the same level of video quality. It can alternatively be used to provide substantially improved video quality at the same bit rate.
10bit colour decoding, supports maximum 1.7 billion colour depth, 60 times more than normal 8bit colour decoding. Gives you more natural, more real picture colour.
MyGica Andoid TV Platforms/Solutions benefit from MyGica's worldwide secure online update service, to always provide the latest, safest and greatest Firmware and Applications that are available.
Key Features
Specifications


Operating System: Android™ 5.1 Lollipop


System Processor: Quad-core 64-bit ARM® Cortex™-A53 up to 2GHz


Graphics Processor: Penta-core ARM® Mali™-450


Video Resolution: 4K(60fps), 2K, 1080p(60fps), 1080i, 720p, 720i, 576p, 576i, 486p, 486i


Video Playback Codec: MPEG 1/2/4, H.265, H.264, VC-1, WMV, AVI, MKV, MOV


System Memory: 2 GB DDR3 RAM


Internal Media Storage: 16 GB eMMC embedded MultiMediaCard


Video Interface: 1x HDMI 2.0 (HDCP 2.2)


Alternate Audio Video Interface: Mini RCA Composite Video & Stereo Audio


Bluetooth: Bluetooth 4.0


WiFi: 802.11ac 5.0 GHz Dual Band/802.11b/g/n 2.4 GHz.


Ethernet Interface: RJ45 100/1000 Megabits


USB Support: 2x USB 2.0 Ports Max USB HDD Support is 2TB


Micro SD Card: 1 Slot Max 128GB


Pre Installed Apps: Kodi™ Media Center, Chrome™ Browser, Netflix, Facebook, YouTube and More

Package Contents


MyGica ATV 495PRO


Remote Control


AC Power Adapter


HDMI Cable


AV Cable


Quick Installation Guide

Caractéristiques


Système d'Exploitation: Android™ 5.1 Lollipop


Processeur du Système: Quadricœur 64-bit ARM® Cortex™-A53 jusqu'à 2.0GHz


Processeur Graphique: Pentacœur ARM® Mali™-450


Résolution Vidéo: 4K(60fps), 2K, 1080p(60fps), 1080i, 720p, 720i, 576p, 576i, 486p, 486i


Codec pour Lecture Vidéo: MPEG 1/2/4, H.265, H.264, VC-1, WMV, AVI, MKV, MOV


Mémoire Système: 2 GB DDR3 RAM


Support de Stockage Interne: Carte Multimédia embarquée eMMC 16 GB


Interface Vidéo: 1x HDMI 2.0 (HDCP 2.2)


Interface Audio Vidéo Alternative: Mini Vidéo Composite RCA & Stéréo Audio


WiFi: 802.11ac 5.0 GHz Dual Band/802.11b/g/n 2.4GHz


Bluetooth: Bluetooth 4.0


Interface Éthernet: RJ45 100/1000 Megabits


Support USB: 2x Ports USB 2.0 Prise en Charge USB Max Disque Dur de 2TB


Carte Micro SD: 1 Fente pour 128GB Max


Interface disque dur: Support pour HD Interne SATA jusqu' à 2 TB 2,5 po


Applications Préinstallées: Centre Multimédia Kodi™, Navigateur Chrome™, Netflix, Facebook, YouTube et bien plus

Contenus du Pack


MyGica 495PRO


Télécommande


Adaptateur Électrique AC


Câble HDMI


Câble AV Adaptateur Triple RCA Femelle


Guide d'Installation Rapide

Especificaciones


Sistema Operativo: Android© 5.1 Lollipop


Procesador del Sistema: ARM® de 64-bit Cortex©-A5 de cuatro núcleos de hasta 2.0GHz


Procesador Gráfico: ARM® Mali©-450 de cinco núcleos


Resolución de Video: 4K(60fps), 2K, 1080p(60fps), 1080i, 720p, 720i, 576p, 576i, 486p, 486i


Codec de Reproducción de Video: MPEG 1/2/4, H.265, H.264, VC-1, WMV, AVI, MKV, MOV


Memoria del Sistema: 2 GB DDR3 RAM


Almacenamiento Interno para Multimedia: Tarjeta Multimedia Integrada de 16 GB eMMC


Interfaz de Video: 1x HDMI 2.0


Interfaz Alterno de Audio Video: Mini conector de 3.5 mm


WiFi: 802.11ac 5.0 GHz Banda Dual/802.11b/g/n 2.4GHz


Bluetooth: Bluetooth 4.0


Interfaz Ethernet: RJ45 100/1000 Megabits


Compatibilidad USB: 2x USB 2.0 Permite USB HDD de 2 TB Máximo


Tarjeta Micro SD: 1 Ranura, Máximo 128 GB


Apps Pre Instaladas: Kodi© Media Center, Chrome© Browser, Netflix, Facebook, YouTube y más

Contenido del Paquete


MyGica 495PRO


Control Remoto


Adaptador de Corriente AC


Cable HDMI


Cable Audio Triple RCA/Cable AV de Adaptador de Video Hembra


Guía de Instalación Rápida

System Requirements


TV with HDMI in


For WiFi Router with preferably N support at least G support

Warranty


1 Year Warranty in Canada and USA repair facility


Authorized MyGica Dealers offer 1 year warranty Either by Repair or Exchange - Exchanges are only done if the unit cannot be repaired