MyGica ATV495 4K quad core Ultra HD android 5.1 lollipop TV Box HDMI 2.0
Item 872a $89.95Can or $67.13us Brand New.
Facebook: For a very small amount, you get to play with Kodi/XBMC and the Internet!
Item 872a: $89.95Can or $67.13us Brand New.
MyGica ATV495 4K quad core Ultra HD android 5.1 lollipop TV Box HDMI 2.0
Cortex A53
64bit
1GB DDR3
8GB eMMC
HEVC H.265
HDMI 2.0
802.11.ac WiFi
Featuring the all new KR-41 Wireless Keyboard Remote!
Small in size, BIG in Power! "Forget the Rest, Buy The Best".
ATV495 Features the All New Amlogic S905-B Processor, Android 5.1,
HDMI 2.0 for True 4K Experience and AC Wireless Wi-Fi.
Warranty plus hardware failure replacement.
30 years selling electronics in Halifax.
Free Delivery in Halifax on this item. Free Shipping.
Order here or online from HobbySat.
Hobbysat.com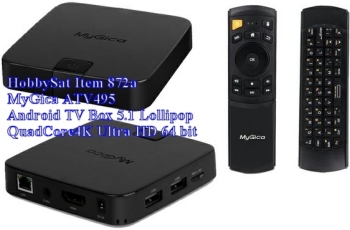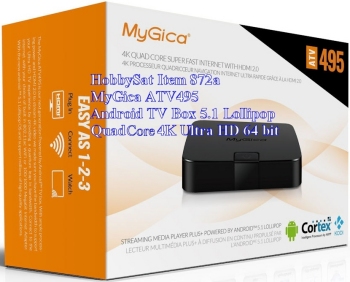 Android is the World's leading Mobile and Tablet Operating System.
This means No Learning curves for Android users.
The ATV 495 is powered by Android which allows you to download applications on your MyGica
ATV 495 and share it with all your Android devices or vice versa.
Download from Millions of Apps, Games, Books, Movies and more on the Google Playstore.
Firmware/Operation System:
Android 5.1 quad core Android TV box.
Youtube TV: With Youtube TV support you get 1080P and a 4K2K Ultra HD viewing
experience on a big TV Screen.
lollipop.
Connectivity 1: WLAN 802.11AC +BT:
3x Faster Wi-Fi speed than Wireless-N Wi-Fi.
150% wider/Ultra-wide coverage for large homes and multi-floor locations via MyGica ATV495.
Less Interference.
Connectivity 2: Gigabit Ethernet:
Extremely fast and stable for local network video streaming and Ultra HD streaming.
Kodi:
Kodi, formally known as XMBC, is a media player platform that allows users to play and view most videos,
music, such as podcasts from the Internet, home networks and all common digital media files from local and
network storage media.
The ATV495 comes with pre-installed, customized and optimized Kodi, with hardware decoding up to 4K2K
Ultra HD support.
4K2K/ULTRA HD @ 60fps:
4K2K Ultra HD video playback/real time decoding, with HDMI 2.0 frame rate can go up to 60fps.
Enjoy the incredible picture crispness and dramatic detail of 4K2K Ultra HD and 1080p resolution.
H.265 hardware decoding, saving 50% bandwidth:
H.265/HEVC is a successor to H.264/AVC. Compared to H.264, H.265 data compression ratio is double at
the same level of video quality. It can alternatively be used to provide substantially improved video
quality at the same bit rate.
10bit Colour Decoding:
10bit colour decoding, supports maximum 1.7 billion colour depth.
60 times more than normal 8bit colour decoding.
Gives you more natural, more real picture colour.
OTA Update:
MyGica Andoid TV Platforms/Solutions benefit from MyGica's worldwide secure online update service,
to always provide the latest, safest and greatest Firmware and Applications that are available.
Don't be fooled by the diminutive size of the ATV 495.
With serious upgrades in our small form factor Android box, MyGica succeeds in achieving the next
level of excellence. A look inside reveals top-class components that double the viewable number of
4K frames per second, the latest advances in ac WiFi technology, 10-bit hardware decoding and more...
Key Features:
Specifications:
• Operating System: Android™ 5.1 Lollipop
• System Processor: Quad-core 64-bit ARM® Cortex™-A53 up to 2GHz
• Graphics Processor: Penta-core ARM® Mali™-450
• Video Resolution: 4K(60fps), 2K, 1080p(60fps), 1080i, 720p, 720i, 576p, 576i, 486p, 486i
• Video Playback Codec: MPEG 1/2/4, H.265, H.264, VC-1, WMV, AVI, MKV, MOV
• System Memory: 1 GB DDR3 RAM
• Internal Media Storage: 8 GB eMMC embedded MultiMediaCard
• Video Interface: 1x HDMI 2.0 (HDCP 2.2)
• Alternate Audio Video Interface: Mini RCA Composite Video & Stereo Audio
• Bluetooth: Bluetooth 4.0
• WiFi: 802.11ac 5.0 GHz Dual Band/802.11b/g/n 2.4GHz
• Ethernet Interface: RJ45 10/100 Megabits
• USB Support: 2x USB 2.0 Ports Max, USB HDD Support is 2TB
• Micro SD Card: 1 Slot Max 128GB
• Pre Installed Apps: Kodi™ Media Center, Chrome™ Browser, Netflix, Facebook, YouTube and More
This Package Includes:
• MyGica ATV 495
• Remote Control
• AC Power Adapter
• HDMI Cable
• AV Cable
• Quick Installation Guide
System Requirements:
• TV with HDMI in or RCA A/V inputs.
• WiFi Router with preferrably N support at least G support.
Warranty:
• 1 Year Warranty in Canada and USA repair facility
• Authorized MyGica Dealers offer 1 year warranty Either by Repair or Exchange.
• Exchanges are only done if the unit cannot be repaired.
MyGica?
MyGica an expert in TV products, delivering the consumer the ultimate experience of watching internet television.
Who is MyGica?
Manufacturers of the highest quality Android TV Boxes including the Jynxbox Android, Pivos XIOS DS and MyGica Products.
What is Android TV box?
MyGica Android TV box turns any Television into a Smart TV or Converts your Existing Smart TV into a Smarter TV.
Surf the Internet, Stream Movies, Read Ebooks, Play Games, Video chat and much more from your TV.
MyGica Android Boxes are Easy to Use and provide Endless Entertainment.
Why buy from HobbySat?
1 year warranty and support. HobbySat carries the North American versions of MyGica Products.
Stop paying overpriced Cable or Satellite TV.
Tired of being forced to pick high cost packages, just to get the channels you want?
Frustrated at paying for equipment rentals from your provider?
Go with a company who's got your back.
TAKE CONTROL OF YOUR TV
HobbySat is the home of media players, Android TV, IPTV, TV Antenna stuff and Free to Air Satellite.
We beat all other prices for the gear you need for many years now.
CERTIFICATIONS
CE
FCC
RoHS Compliant
UPC: 1 90314 00006 0
DIMENSIONS
• Product Dimensions: 17.8x7.6x12.7cm; 680g
• Shipping Weight: 739g