MyGica HDTV USB Stick TV Tuner A680B Windows 7
Facebook: Portable TV tuner digital converter for Off-Air-TV!
Item 871: $35.95Can or $27.87us Brand New.
HOBBYSAT MEDIA PLAYERS - MyGica HDTV USB Stick TV Tuner A680B Windows 7 Certified
DESCRIPTION:

ATSC.
Digital and Analogue Video Capture.
TV Tuner.
MyGica A680B.
USB 2.0.
Mygica A680B USB HDTV Tuner, Windows 7 64bit and 32bit Certified, Clear QAM and
ATSC TV, Windows 7 Media Center Remote and Free Antenna, Live HDTV On PC or Laptop
with Antenna or Clear QAM from Digital Cable, Live/Scheduled TV Recording.
This small powerful device allows you to receive Over the Air Broadcasts and Clear
QAM on your MyGica Android Smart TV boxes. MyGica A680B currently works with MyGica
ATV 1200, ATV 400 and ATV 520e Android Smart TV Models.
If you have an old TV without a built-in ATSC tuner, the MyGica A680B device works
as a digital to analogue converter box PLUS it turns your old TV into a Smart TV,
allowing you to watch Netflix, Hulu, XBMC on your Television. (MyGica Android Smart
TV box required for this).
Does your Televsion already have a built-in ATSC tuner? You could use the MyGica
A680B with your MyGica Android Smart TV box, turning it into a DVR system. Record
all your favourite shows!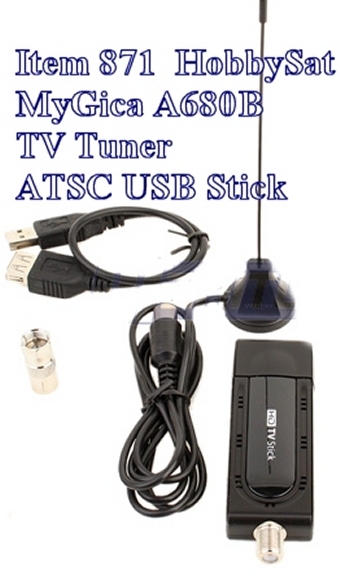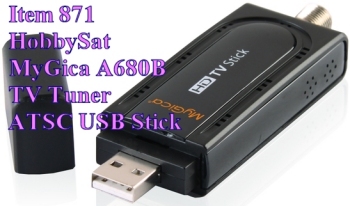 Mygica A680B USB HDTV Tuner also works on your PC computer.
Windows 7 and Media Center:
Mygica tuners are Windows certified products and Windows 7 Media Center will
automatically detect this tuner. Simply install the driver (32bit and 64bit)
download from the enclosed CD-ROM and you will enjoy the HDTV on PC.
Note on Windows 7 Media Centre Remote:
The remote is designed for Windows 7 Media Centre and/or TotalMedia software. You need
to install the IR remote software found on the enclosed CD under D:\TV IR Folder or the
IR software installation will start automatically when installing the software from
CD-ROM.
After installing the IR software, make sure to select the Media center in settings if you
need to use it to control the Media Center. The default setting is to control the TotalMedia
software. (look for the last image on top for more details).
Antenna
The Free mini Antenna has limited performance due to its size. For best reception result,
please use an outdoor antenna or a large antenna. HobbySat has many of these.
Software
ArcSoft TotalMedia 3.5 is a third party software running on XP, Vista, Windows 7. It works
like the Windows Media Center.
Drivers
New A680B Drivers for 32bit and 64bit Windows7 MC were released for download here. This card does
not support XP MCE. If you need to use this tuner for Vista Media center, download this Vista patch
first from Microsoft Link.
Technical Support:
Read our FAQs on TV Tuners below or email to Support geniatech.com
HDTV Stick-A680B is a Pen size USB HDTV Stick. The mini and compact design makes your every trip much
easier and it is very portable! Enjoy ATSC Over-The-Air HDTV (8VSB) and un-scrambled Cable HDTV (Clear
QAM) entertainment whenever you like and wherever you go on your PC.
Features:
• Advanced TV Application
• Watch free crystal-clear HDTV ATSC (Clear QAM and 8VSB) TV on laptop and desktop
• Rewind and fast forward live TV shows with Always Time Shifting recording
• Electronic Programme Guide (EPG) on PC only. Coming Soon to Android
• High resolution snapshot
• Full function remote
• Smaller
• Schedule TV recording - Time Shifting and save directly to your PC's hard drive in Mpeg2 format with personal HDTV recorder
• Supports MyGica Smart Android TV boxes (Dual Core versions)
Technical Specifications
Tuner:
Input Terminal: 75 Ohms Connector
Receiving Frequency:
TV: 48.25~863.25 MHz
USB Interface:
Universal Serial Bus 2.0 Standard
A Type USB Male Connector
De-Multiplexing:
Max No. Section filtering: 32PIDs
Engine: Software
Stream capture: PES & TS
A/V Format:
Video Format: MPEG-II Main Profile & Main Level
Audio Format: MPEG-II Audio Layer I & II
System Requirements:
→Microsoft Windows XP Service Pack 2, Windows Vista, Windows 7 32 bit and 64 bit
→P4 1.7GHz CPU or above for SDTV
→P4 2.0GHz CPU or above for HDTV
→128M RAM or above for SDTV; 256M RAM or above for HDTV
→VGA Card with at least 16MB Memory for SDTV
→VGA Card with at least 32MB Memory for HDTV
→Sound Card or On Board Sound Chip
→One Free USB 2.0 Port (not compatible with USB1.1)
→Microsoft Direct X 9.0 or above
→Microsoft Media Player 9.0 or above
→UHF/VHF Antenna for ATSC Terrestrial
→Unscrambled Cable/CATV signal for clear QAM
→Supports Android TV Boxes: MyGica ATV 1200, ATV 400, ATV 520e.
Tester's Review:
Installed this Mygica A680B ATSC Tuner Stick with enclosed TV Antenna in Halifax, N.S.,
Spryfield area and it picked up the 3 local networks no problem with great picture quality.
Should be fine in your city or town. If not, we'll upgrade you to one that does ok.
Note: Antenna position and heights will affect Channel scan result.
Check out our digital TV Tuner FAQ for details.
Digital TV Tuner FAQ:
1. Q: What antenna is required?
A: Although it comes with one, you can use any antenna to connect to this tuner, like a regular
UHF/VHF antenna. A larger outdoor antenna is better for signal reception.
2. Q: How to capture more digital channels with strong signals?
A: It varies with factors like different brands of antennas, antenna direction and position, PC
location and building structures. Pointing the antenna to different directions to test the
reception and for sure you will get better signals when you have an outdoor antenna or place
the indoor antenna near the windows and at a higher position.
3. Q: Will I get 1080i or 720P video through this tuner?
A: Yes. All PC and laptop LCD monitors have higher resolution than 720P.
4. Q: How many Over the Air HD channels in my area?
A: Go to antennaweb.org and input your address. You will see all the digital and analogue
channels available in your area. Another Website is www.titantv.com
UPC: 6 05482 12227 3

Certifications:
Made in China.
CR, FCC
QC Passed
Why risk buying generic brands for a few dollars cheaper?
MyGica has Factory support with automatic updates. Best of all the MyGica comes with 1 year warranty in North America!!!!
What is Android TV box?
Android is the World's leading Mobile and Tablet Operating System.
This means No Learning curves for Android users.
MyGica Android TV box turns any Television into a Smart TV or Converts your Existing Smart TV
into a Smarter TV.
The ATV 400 is powered by Android which allows you to download applications on your MyGica
ATV 400 and share it with all your Android devices or vice versa.
Download from Millions of Apps, Games, Books, Movies and more on the Google Playstore.
Surf the Internet, Stream Movies, Read Ebooks, Play Games, Video chat and much more from your TV.
MyGica Android Boxes are Easy to Use and provide Endless Entertainment.
*FREE SHIPPING! FREE SHIPPING! FREE SHIPPING!*
Warranty plus hardware failure replacement.
30 years selling electronics in Halifax.
Free Delivery in Halifax on this item. Free Shipping.
Order here or online from HobbySat.
Hobbysat.com
This Package Includes:
• A680B ATSC TV HDTV USB Tuner Stick for PC and laptop and MyGica Android Smart TV
• Infrared Remote Control
• Mini RF to F converter USB cable
• High Gain TV Antenna
• Quick Installation Guide
• Software CD (Driver and ArtSoft TotalMedia application and software)
Warranty:
• 1 Year Warranty in Canada and USA repair facility
• Authorized MyGica Dealers offer 1 year warranty Either by Repair or Exchange.
• Exchanges are only done if the unit cannot be repaired.
MyGica?
MyGica an expert in TV products, delivering the consumer the ultimate experience of watching internet television.
Who is MyGica?
Manufacturers of the highest quality Android TV Boxes including the Jynxbox Android, Pivos XIOS DS and MyGica Products.
Why buy from HobbySat?
1 year warranty and support. HobbySat carries the North American versions of MyGica Products.
Stop paying overpriced Cable or Satellite TV.
Tired of being forced to pick high cost packages, just to get the channels you want?
Frustrated at paying for equipment rentals from your provider?
Go with a company who's got your back.
TAKE CONTROL OF YOUR TV
HobbySat is the home of media players, Android TV, IPTV, TV Antenna stuff and Free to Air Satellite.
We beat all other prices for the gear you need for many years now.