MyGica ATV 585 Quad Core Android TV Box.
Item 869b $89.95Can or $67.13us Brand New.
Facebook: For a very small amount, you get to play with Kodi/XBMC and the Internet!
Item 869b: $89.95Can or $67.13us Brand New.
MyGica ATV 585 Quad Core Android TV Box.
The ATV585 is a real Quad Core Android TV box connected to your TV HDMI input
that turns your TV into a multifunction smart TV:
a Premium media player,
an internet browser with a big view,
a photo viewer,
a game player,
a music player,
a huge size screen ebook/emegazine/newspaper reader,
an online video TV,
and it is revolutionary entertainment on your TV.
It provides a new family television entertainment experience, TV is smart from now on.
Warranty plus hardware failure replacement.
30 years selling electronics in Halifax.
Free Delivery in Halifax on this item. Free Shipping.
Order here or online from HobbySat.
Hobbysat.com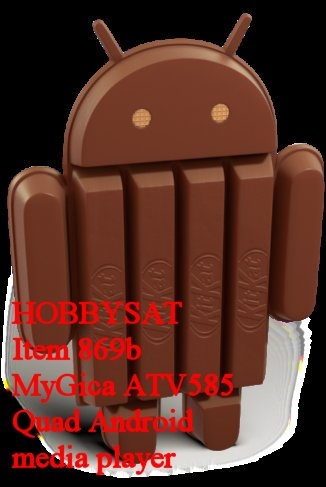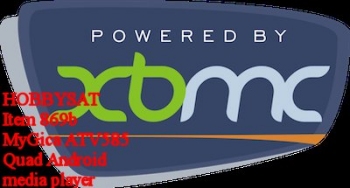 Android is the World's leading Mobile and Tablet Operating System.
This means No Learning curves for Android users.
The ATV 585 is powered by Android which allows you to download applications on your MyGica
ATV 585 and share it with all your Android devices or vice versa.
Download from Millions of Apps, Games, Books, Movies and more on the Google Playstore.
MyGica ATV 585 is preloaded with the Popular XBMC Media Center as its Premium Home
Entertainment Software.
XBMC has No trials, No Pro Edition and No Limitations. Our competitors seem to think
offering a limited basic edition or trial period Media Center is acceptable.
Features:
•CPU: Amlogic S805, ARM Cortex A5x4, Quad Core Mali-450MP 4GPU, CPU frequency is 1.5 GHz 3D engine
•RAM is 1G, built-in EMMC 8G flash memory
•Supports Full HD 1080P, H.265, Mpeg1/2/4, H.264, VC-1, WMV, AVI, MKV, MOV video decoding
•Powered by Android 4.4 OS
•Built-in Google Chrome browser and supports virtual private network access
•RJ45 10/100M Ethernet interface
•Bluetooth 4.0
•Supports 1080P video local media playback from SD card or USB HDD
•Built-in 802.11 b/g/n WiFi module with antenna inside
•RJ45: Wired internet connection
•HDMI video output, connect to HDTV for HD video playback
•2 external USB interfaces
•Supports mobile HDD
•Supports weather, calendar, and desktop clock gadgets
•Supports USB mouse and keyboard operation
•Supports simple IR remote control with mouse function
•Supports Flash Player 11, online video access to internet, online video playing
•Picture player supports multi formats: BMP, JPG, TIF, PNG, GIF and more family entertainment
•Software updates with USB disc
•Supports Micro SD card
•AppInstaller for application installation from USB/SD
•UI ANDROID system UI style/Customized UI
•Online Music Access to internet, online music playing
•External storage Micro SD card, USB storage support
This Package Includes:
• MyGica ATV585 Enjoy TV Android Quad Core TV Box
• HDMI cable
• User Manual
• Power Adapter
• MyGica KR41 Wireless Keyboard/Remote Control
Interface Defintions and parameters
• Output: HDMI/CVBS
• USB: 2x external
• SD card: 1x Micro SD Card slot
• Internet: 802.11 b/g/n WiFi & RJ45 10/100M ethernet
• Remote control: IR remote 2.4 GHZ. wireless included
• Voltage: 5.0V/2A DC
Dimensions:
• Resolution: 1280x720, 1920x1080
• Product Size: 100mm(L)x100mm(W)x15mm(H)
• Weight: 160g
• Power Consumption: <10W
• Remote Distance: 8-10 Metres Visual
System Requirements:
• TV with HDMI-in
• Internet router
MyGica?
MyGica an expert in TV products, delivering the consumer the ultimate experience of watching internet television.
Who is MyGica?
Manufacturers of the highest quality Android TV Boxes including the Jynxbox Android, Pivos XIOS DS and MyGica Products.
What is Android TV box?
MyGica Android TV box turns any Television into a Smart TV or Converts your Existing Smart TV into a Smarter TV.
Surf the Internet, Stream Movies, Read Ebooks, Play Games, Video chat and much more from your TV.
MyGica Android Boxes are Easy to Use and provide Endless Entertainment.
Why buy from HobbySat?
1 year warranty and support. HobbySat carries the North American versions of MyGica Products.
HobbySat is the home of media players, Android TV, IPTV, TV Antenna stuff and Free to Air Satellite.
We beat all other prices for the gear you need for many years now.